TK Stained Glass Design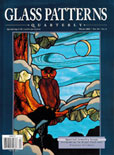 Glass Patterns Quarterly featured our Grape Lamp.
Please look page 8 in Winter 2002 issue.
Supplementary Information:
Pieces need to cut:
The largest rectangles (pattern B): 4 pieces (make one square column)
Other rectangles (pattern B): 8 pieces each (make two square columns each)
Grapes and leaves (pattern G and P): 4 pieces each (or arrange as you like)
You can also use glass nuggets for grapes (pattern P).
This works uses following our pedestal.
Japanese Lamp Pedestals "Kasuga"
This pedestal has dadoes for the works and a butterfly clip socket hole.
130 mm each x H32 mm, Cashew Lacquer finished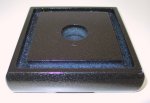 TKJ001 Black with Gold fleck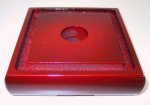 TKJ002 Red
If you enjoy making other Fans, following pattern packet is available.
TKD181 Japanese Candle Lamp 1
Contains 6 designs: Clematis, Maple, Bamboo, Grape, Cymbidium, Cherry Blossom
Fits for our Japanese Lamp Pedestals "Kasuga" (TKJ021, TKJ022)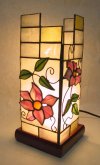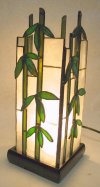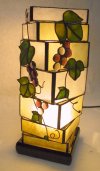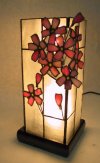 Back to "Let's make Stained Glass."